Camouflage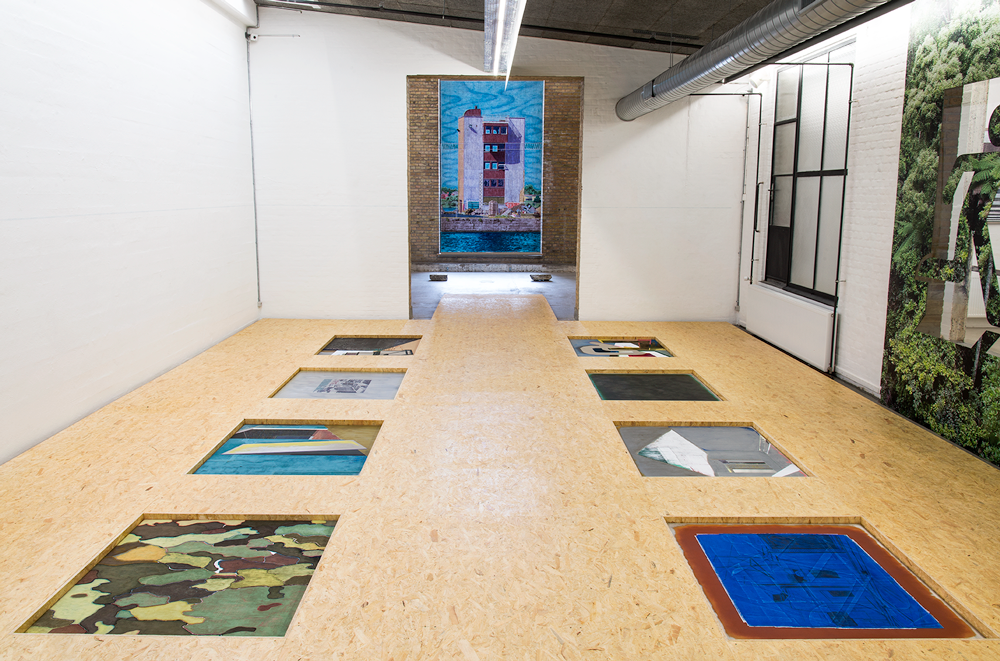 Tilføj blok
CATWALK IN THE ART HALL
Ivan Andersen challenges the audience's body and line of sight, as they have to walk a "catwalk" amidst paintings installed in the floor or when they meet a rainforest with emergency exits, a camouflaged ba– nana palm and a large transparent canvas inspired by Aalborg Harbor.
By Henrik Broch-Lips
For many years, Ivan Andersen has vigorously studied the formal and aesthetic qualities of painting such as light, color, form, dynamics, composition, movement and expression. He has created conceptual and controlled compo- sitions based on the surface, and over time has painted a number of complex and illusory spaces.
The original and academically educated visual artist has continuously developed the thrilling relationship between representation and abstraction, but the distinctive mix of escalators, semi-detached houses, geometric figures, dripping paint and tight lines has often made it difficult to distinguish between representative and abstract elements.
However, a glance at Ivan Andersen's work production in recent years reveals that he increasingly weighs the ab- stract elements while at the same time keen to develop his peculiar practice for sculptural, expanded painting.
He has thus created a number of spatial and interactive staged scenes and further developed his exploration of visual production and our perception. He often goes beyond the frame and has begun to demand more of himself and his view in his constant process of renewing the painting as a genre.
Catwalk in the art gallery
With the exhibition Camouflage in Kunsthal NORD, Ivan Andersen has further expanded his visual practice in three dimensions. He has chosen to experiment with new sculptural elements, while he also uses brand new techniques and many different materials in the works, which are obviously inspired by Nordkraft's architecture, character and art gallery's exhibition history.
"I am inspired by Kunsthal NORD in several ways – this can be seen in the choice of subjects, in material choices and in several of the works' rough, raw, industrial look, which reflects the art gallery and the Nordkrafts building as a power plant," says Ivan Andersen.
"On research tours I have taken a lot of photos of walls and places where different clashing materials appear in walls and floors and used it as motives for my paintings. And then I've simply related to the actual rooms like you always do when you get to a new showroom and think what options are available."
It has become increasingly interesting for Ivan Andersen to explore how he can exploit the space he has to exhibit and how he can stage his works. For a long time he wondered how he could present his paintings in a different way and finally reached the idea of lowering them in a stage as one large collective installation.
"Slitage" consists of eight individual paintings, which I have made on aluminum sheets, and the fact that they are on the floor can of course be seen as a critical alternative for hanging pictures on the wall. The elevated part of art is literally removed and the paintings become an overall stage where the glare of the metal plates almost gets an effect like small lakes in the floor," says Ivan Andersen.
Must complement each other
Every time the visual artist from Copenhagen is going to make a solo show, he works purposefully to get the indi- vidual works to complement each other, so the result will be one united installation.
"I always think of an exhibition as a whole, even if it consists of ten paintings or maybe just two installations, two paintings and a photo. It is interesting to create the works individually and at the same time, during the process, assess what is lacking of works to create a larger whole, "says Ivan Andersen, continuing:
"To some extent, of course, it is emphasized that the individual work is working, and so I have to try to adjust with works that, as connectors, might link two works that are far apart."
For the floor installation 'Slitage', Ivan Andersen started with a focus on the exhibition hall of the art gallery and, in turn, has made paraphrases of photographic representations of works from previous exhibitions. He has a special explanation for:
"I do not think I've seen that approach before and I really needed visual material for the eight images that I had to make for the "Slitage" work – and I thought about where I would be able to find something that is relevant. I think I have examined 2000 images from Kunsthal NORD's image archive – it was actually quite a big job," he says.
Curious and frustrated
Working with Camouflage, Ivan Andersen has challenged himself and has worked with a lot of materials, subjects and lines of sight he has never tried before. He likes to experiment with materials and different styles, and often crosses different picturesque genres in the same painting.
"I'm really just a very curious person, who gets ideas that go in a lot of different directions, and so I love to put new materials into my works. The ideas that appear in my mind are very scattered, and I am often very frustrated that I can not pursue all leads," he says.
Recognizing patterns
The exhibition title Camouflage was chosen as a work title early in the work process, and according to Ivan Anders- en, it was not necessarily thought of as the final title.
"As the production of the works progressed, the title became more and more appealing, because the exhibition is about systems, patterns and objects that is camouflaged and how we are able to see the patterns hidden in our world" .
"I once read William Gibson's book 'Pattern Recognition' which I often think about, because I'm a person looking for relationships and patterns and systems in everything – not just in art. But I think it reflects in the works I'm doing where I'm trying to make things fit together or trying to get two different systems or patterns to collide or get hidden patterns or systems in my works," says Ivan Andersen.
"And I think it's such a deep fascination with science and the laws of physics and that there's actually something, in a system, that controls everything we surround ourselves with – and I'm not talking directly about religion, although one can say that it can be difficult to distinguish between physics and religion in this case."
Banana palm and emergency exit
An example of Ivan Andersen's interest in pattern recognition and the use of camouflage is the palm work "Mimic- ry": An artificial banana palm, sprayed in stripes and placed in front of a curtain with the exact same stripes. When you look at the palm from a certain point, it more or less lines up with the stripes on the back cover and is almost perfectly camouflaged.
"I am inspired by animals that mimic their surroundings to camouflage or appear more dangerous. For example, cabbageworms mimic a snake – with big spots, so it looks like they have some huge eyes," says Ivan Andersen.
Another example of camouflage is the big painting on veneer plates hung high in the art gallery's highest room. Looking closely, you can see that some of Nordkraft's buildings are hidden or camouflaged in the painting.
A third example is a dazzled doorway with a huge emergency exit symbol, sitting in the middle of a rainforest im- age, making it a transparent interactive wall. The transparent opening of the image is camouflaged by the fact that on the wall behind it, there is another picture of a similar rainforest, so you do not necessarily notice the emergency exit symbol in the work.
Undercover
Ivan Andersen has been working for a year creating his exhibition in Kunsthal NORD, and although the vast majority of works have been made specifically for the surroundings, there are a few earlier works that have been reinstalled in this exhibition. Eg. the figurative painting Undercover, which was shown at Art Copenhagen in 2012.
"The special thing about this work is that after painting the picture I painted approximately 70% with white paint. But before i did that, I photographed the work, I then projected the motif that was painted on the white surface so that when you see the image, 70% is a projection and the rest is the original figurative motif. You can see the entire motif, but the entire motif is not there physically," says Ivan Andersen.
When the work was made for the art fair, it was meant to comment on the commercial side of the art world and art fairs, where it's just about selling paintings:
"I liked the idea that people who bought the painting would come home with just 30% of what they had seen. But, of course, it was a survey of what you see and when what you see is valid, you can say – or when it has value. Is a photo of a painting as good as a painting or is a projection of a painting just as good? – or as valid as a painting?"
Will not limit
Ivan Andersen asks many questions with his works and camouflage is no exception. The exhibition demands the viewer and challenges the mindset, norms and prejudices. First and foremost, he hopes that people who come and see the exhibition will have a really good and open experience from it.
"If I went into what I hoped the guests would get from my exhibit, I would control them too much and limit their experience. So I do not want to go any further into that, "says Ivan Andersen.